---
THIS IS WHAT DEMOCRACY LOOKS LIKE
A show by Jim Ricks

Daniela Elbahara is happy to celebrate four "firsts"; The 1st anniversary of the gallery, Jim Ricks' 1st solo show in the space (and his 1st 'painting show') as well as the 1st exhibition of 2020.
It is important to say that this ongoing series of work is a search for the democratic impulse rather than something complete or conclusive. The name of the show comes from the protest chant popularized in the anti World Trade Organization protests in Seattle in 1999. With this title, Ricks hopes to highlight the threshold between revolutionary fervor and mob rule; between high aspirations for humanity and mass-produced platitudes.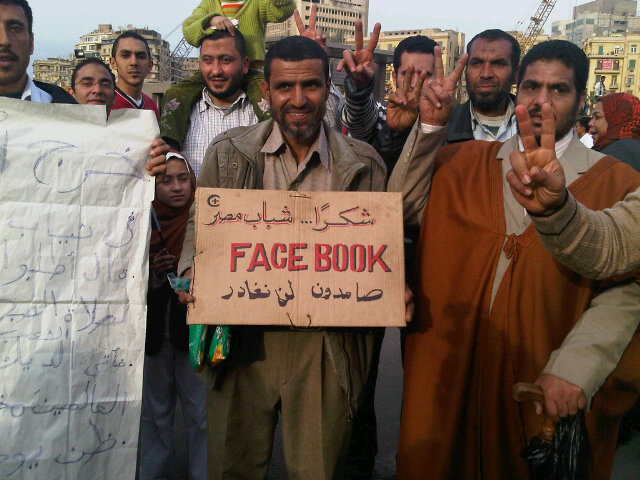 Thank You Facebook - from @richardengelnbc Friday Jan 28, 2011
In "This is What Democracy Looks Like", the Bay Area artist defines democracy as something "between the absolutely brutal and the absurdly banal". Actually, all his work derivates from years of research, but also from chance encounters on the street or directly from the news and Amazon. The editorial process is one of careful selection and blatant appropriation. By selecting objects from the real world there is a certain unquestionability to them. They exist independently, like citations in a thesis or secondary sources on Wikipedia. Ricks actively seeks to collapse time and space by the careful selection of examples from different time periods, thus resisting the urge to make 'current events' work all too often misunderstood and accepted as political art, often highlighting disparity within the same culture and place.
Moreover, let us remind you that democracy comes from the combination of the Greek words demos and kratos... 'District rule' or 'the rule of common people', or even 'strength of common people'. Today most people equate the word with Bourgeois Democracy or the chance to vote for professional politicians in a parliamentary system every few years. Ricks' definition refers to "the organic formulations of people – something he believes is 100% instinctually natural and human – to create order and structure. Ricks posits that class-less self-organisation is innately human. Today this normally occurs outside of official systems of control. But he also looks to universalize concepts of equality to compliment the overtly political trajectory of the show. Thus, democracy is revealed as something powerfully innate, but also popular, common, and universal in character. From independent political self-organization to market detritus of the international pop quotidian."
Ricks' first 'painting show' is not purely painting and it's not showing painting in the traditional sense. The artist fabricates the paintings like screen prints and frames source information like photographs – much like the Duchampian sense of making 'selections'. This of course reflects his education, and equally his background as a graffiti artist, coming through numerous examples of graffiti directly included, but likewise through the prevalence of text in the show and a general 'street' sensibility. He strives for the gesamtkunstwerk (a work of art that makes use of all or many art forms), as a sort of art-historical game that includes bronze sculptural works, printmaking, murals, found objects, sound, and relational pieces.
BIO
Jim Ricks is a conceptual artist and received his education in equal parts: Montessori, Activist, Jesuit, 90's Graffiti, Art School, and Artist-run. From San Francisco, he is naturalised Irish after arriving there for an MFA more than a 12 years ago. He currently lives in Mexico City.

Ricks' has multiple practices. Ricks problematises preconceptions about identity and value with a clever Marxist epistemology. His work is research driven, publicly engaged, and site specific. He believes creolization is beautiful and actively seeks out examples of the everyday. Projects include a Bouncy megalithic tomb, a global search for the Truth, drone-powered war rugs made in Afghanistan, a gable-end mural in Derry, 'Synchromaterialism', Art Fair interventions, creator of the Centro de Ontología Nacional (National Ontology Center) in Mexico City, the Museo Ambulante Sebastian, and a giant baseball in Cuba to collect autographs of the local residents.

He has had solo shows at Casa Maauad (Mexico City), Pallas Projects (Dublin), the Hugh Lane Gallery (Dublin), Onomatopee (Eindhoven), 126 (Galway), and shown in a number of group shows including at the Centre Culturel Irlandais (Paris), Imperial War Museum (London), Jack Shainman Gallery (NYC), Ulster Museum (Belfast), Temple Bar Gallery & Studios (Dublin), Royal Hibernian Academy (Dublin), and public projects in the Galway International Arts Festival (Galway), Art Basel Miami Art Public (Miami), The Limerick City Gallery of Art (Limerick), the Cranbrook Art Museum (Detroit), Museo Tamayo (Mexico City), Museo Anahuacalli (Mexico City).
---
ASÍ LUCE LA DEMOCRACIA
Una exposición de Jim Ricks


Daniela Elbahara se enorgullece en de celebrar cuatro "primeros"; El primer aniversario de la galería, la primera exposición individual de Jim Ricks en el espacio (y su primera 'muestra de pintura'), así como la primera exposición del 2020.
Primero que nada, es importante comentar que la muestra trata sobre la búsqueda del impulso democrático más que la búsqueda de una definición completa o una conclusión clara. Además, es una de las series en curso en las cuales trabaja Ricks.
Thank You Facebook - from @richardengelnbc Friday Jan 28, 2011
El nombre de la expo viene del canto de protesta que se popularizó durante la manifestación en contra de la Organización de Comercio Mundial (World Trade Organization) que se llevó a cabo en 1999 en la ciudad de Seattle, EUA. Con este título, Ricks espera resaltar el umbral entre el fervor revolucionario y la ley de la calle; entre las altas aspiraciones para la humanidad y los clichés producidos en masa.
En "Así luce la democracia" , el artista de San Francisco define la democracia como algo "entre lo absolutamente brutal y lo absurdamente banal". De hecho, todo su trabajo proviene de años de investigación pero también de encuentros casuales en la calle o directamente de las noticias y de Amazon. Su proceso editorial demuestra una cuidadosa selección y una apropiación descarada. Seleccionando objetos del mundo real, los conceptos son innegables. Existen independientemente, como citas en una tesis o fuentes secundarias en Wikipedia. Ricks activamente busca colapsar el tiempo y el espacio mediante la selección cuidadosa de ejemplos de diferentes periodos – resistiendo así el impulso de hacer que los 'eventos actuales' funcionen con demasiada frecuencia, sean mal entendidos, y etiquetados solo como el típico arte político que a menudo destaca la disparidad dentro de la misma cultura.
Además, permítenos recordarte que la democracia proviene de la combinación de las palabras griegas
demos
y
kratos
... La regla del distrito o la regla de la gente común, o incluso la fuerza de la gente común. Hoy, casi todos igualan la palabra con la democracia burguesa o la posibilidad de votar por políticos profesionales en un sistema parlamentario cada pocos años. La definición de Ricks se refiere a "las formulaciones orgánicas de las personas, algo que creo que es 100% instintivamente natural y humano, para crear orden y estructura. Creo que la autoorganización sin clases es innatamente humana. Actualmente esto normalmente ocurre fuera de los sistemas oficiales de control. Pero también busco conceptos universalizadores de igualdad para complementar la trayectoria abiertamente política del espectáculo. Así, la democracia se revela como algo poderosamente innato, pero también de carácter popular, común y universal. De la autoorganización política independiente a los residuos del mercado del pop cotidiano internacional ".
La primera "exposición de pintura" de Ricks no es puramente pintura y no muestra pintura en el sentido tradicional. El artista fabrica las pinturas como serigrafías y marcos, como fuente de información, como fotografías, muy similar al sentido duchampiano de hacer 'selecciones'. Esto, por supuesto, refleja su educación, e igualmente su experiencia como artista de graffiti, llegando a través de numerosos ejemplos de graffiti directamente incluídos, pero la prevención del texto en el espectáculo y una sensibilidad general de "calle". Jim Ricks se esfuerza por crear la gesamtkunstwerk (una obra de arte que utiliza todas o muchas formas de arte o se esfuerza por hacerlo), generando una especie de juego histórico artístico que incluye obras escultóricas de bronce, grabados, murales, objetos encontrados, sonido y piezas relacionales.
BIO
Jim Ricks es un artista conceptual, curador y escritor. Su educación se deriva (en partes iguales): una escuela Montessori, del activismo, de los Jesuitas, el Graffiti de los 90´s, de la escuela de arte y de ser artista. Proveniente de San Francisco, se naturalizó como irlandés después de llegar a Dublín para cursar una Maestría en Bellas Artes hace más de 14 años.

Actualmente vive en la Ciudad de México y está representado por Daniela Elbahara. Ricks tiene múltiples prácticas. Principalmente, problematiza preconcepciones sobre identidad y valor con una astuta epistemología marxista. Su trabajo se basa en la investigación, generando arte público y específico al sitio. Él cree que la criolización es hermosa y busca activamente ejemplos de lo "cotidiano". Sus proyectos incluyen una tumba megalítica inflable, una búsqueda global de la Verdad, alfombras de guerra con drones hechas en Afganistán, un mural de dos aguas en Derry, 'Synchromaterialism', intervenciones en Ferias de Arte, inventos como el Centro de Ontología Nacional en la Ciudad de México, el Museo Ambulante Sebastián y una pelota de béisbol gigante en Cuba para recoger autógrafos de los residentes locales.

Ha realizado exposiciones individuales en Casa Maauad (Ciudad de México), Pallas Projects (Dublín), la Galería Hugh Lane (Dublín), Onomatopee (Eindhoven), 126 (Galway), y ha expuesto en una serie de muestras grupales, en lugares como el Centro Cultural Irlandais (París), Imperial War Museum (Londres), Jack Shainman Gallery (Nueva York), Ulster Museum (Belfast), Temple Bar Gallery & Studios (Dublín), Royal Hibernian Academy (Dublín) y proyectos públicos en el Festival Internacional de Arte de Galway (Galway), Art Basel Miami Art Public (Miami), The Limerick City Gallery of Art (Limerick), Cranbrook Art Museum (Detroit), Museo Tamayo (Ciudad de México), Museo Anahuacalli (Ciudad de México), Museo Hirshhorn (Washington DC).